Description
Creative Heart-shaped Lightweight Water Bottle: This BPA-free water bottle is the newest design, you can twist the toddler water bottle to the "heart shape", and this toddler water bottle is portable with the strap, which you can carry anywhere you want.
Premium Health Material and Construction: The collapsible water bottle is made of Tritan material which is Free of harmful chemicals.
Come with Carry Strap: The water bottle with storage comes with a strap, you can easily carry these cute water bottles anywhere you want.
A Must-Have for Your Day-to-Day Life: This travel water bottle is designed with a half water half storage idea. the kid's water bottle features a nice storage function in which it can hold your keys, cash, snacks, protein powder, and any other valuables. Plus, it's the deal Tritan water bottle for the outdoor, survival, fitness, and workout enthusiast!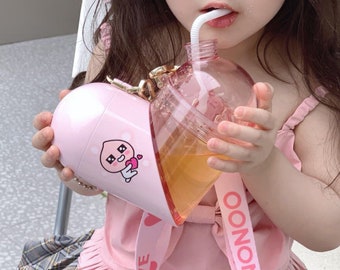 Water Bottle with Secret Compartment: These cool water bottles will be a nice gift for your friends and family. The kawaii water bottle is designed with a bottom compartment that acts as a hidden container for your cards, keys, cash, and other valuables at home or when traveling.
Payment & Security
Your payment information is processed securely. We do not store credit card details nor have access to your credit card information.